RACE INFORMATION
DORNEY TRIATHLON – SUNDAY 11TH AUGUST 2019
Address: Dorney Lake, Off Court Lane, Windsor, Berkshire, SL4 6QF (Type Dorney Lake into maps/Sat Nav)
Start times:
Sprint Wave: 07:00AM
Standard Wave: 07:15AM
Thank you for entering the Dorney Triathlon which is permitted by and run under BTF rules. Please read all the notes! Active Training World and Run Through wish you all the best and we trust you will have a productive and enjoyable race.
Timings, Arrival and Registration
Registration and transition open: 05:40 am
Registration closes: 06:40 am
Transition closes for all competitors: 06:45 am
Mandatory race briefing: 06:45 am
Sprint wave starts: 07:00 am
Standard wave starts: 7:15 am
Registration and Race Pack 
Registration will be at the race headquarters next to the transition area. It will take place on Sunday August 11th from 05:40AM to 06:40AM only.
If you are BTF Registered you must produce your valid BTF licence on race day, otherwise you will be required to pay the £5 for a BTF day licence. Please bring the right money if needed.
On arrival at registration you will be given your Race Pack which will include:
2 race numbers – you can use 1 number on a race belt if you prefer to use it.
2 numbered stickers – 1 for the front of your helmet and 1 for the top tube of your bike.
1 swim cap. You must wear this for your swim.
1 non-disposable timing chip with strap which must be strapped to your ankle, without the strap covering the chip, as per the diagram below.
You will also be marked with your race number on the back of your hand. This is for your own safety as it will allow us to quickly identify you in the water if you require assistance from the medical team.
The stickers must be attached, your helmet must be on and your body marked with your number/wristband attached before you will be admitted to transition. Please wear your timing chip as per the diagram below:
Transition Area
Active Training World and RunThrough are not responsible for the damage or theft of any of your belongings, including your bike during the race. There are bike insurance companies that will cover your bike when it is left in the transition area. We are not associated to any of these insurance companies but if you would like us to suggest an insurance company then please get in touch via email, ([email protected]).
Racking of the bike needs to be by the saddle, so that the majority of the bike faces into transition (front wheel into transition with the kit by the front wheel). This method of racking is also required on return from the bike leg.
No boxes or bags are allowed to be left by the athletes bike in transition. Only a small soft rucksack is allowed. An area will be provided for you to leave your bags at your own risk.
There will be marshals in the Transition Area to help if you are not familiar with the setting up arrangements for your bike, helmet, shoes etc.
Please use the time before the race to familiarise yourself with the ways in and out of the transition area and walk through transition.
Please also note that the transition area will be closed at 06:45AM and if you have not racked your bike by this time you will be unable to take part in the triathlon. Relay athletes are the only athletes allowed in transition after 06:45AM.
Race Rules
Normal BTF (British Triathlon Federation) rules apply. All these rules are important but the most important of these is that all competitors must secure their cycle helmet (on their heads!) before removing their bike from the rack and must not undo or remove it before racking their bike at the end of the cycle section.
You must also fully comply with and follow all rules of the Highway Code. Our primary consideration is your safety, make it yours as well!
Swim Course 
Sprint Distance – 750m, 1 lap
Standard Distance – 1500m, 2 laps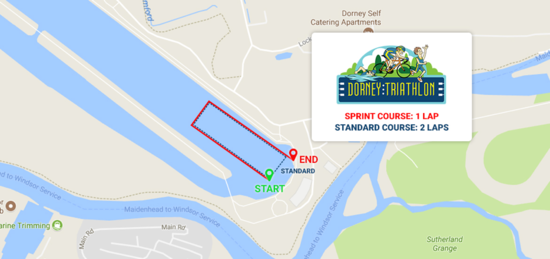 You will be guided to the side of the lake at the swim start, straight after the race briefing.
Swim hats are compulsory and will be provided.
You will be asked to enter the water and line up at or behind the start line. The swim will start in the water.
The start will be prompt, to provide the most accurate times for you.
The temperature of the lake is taken on the morning of the event and if it is over 14c then wetsuits will be optional. If the temperature is over 22 degrees then wetsuits will not be allowed. Please don't email us if wetsuits will be allowed at the race, as we can't tell you this information until the temperature is taken on race day.
If you have any recent exposed cuts or feel unwell you are advised not to take part.
If you get into any sort of difficulty, roll onto your back and raise one arm directly upwards out of the water. This will prompt a lifeguard in a kayak to either rescue or attend to you out in the open water.
The route is clockwise. The course will be well marked with swim buoys and you will complete 1 lap for the sprint distance and 2 laps for the standard distance. After completing your correct number of laps, you will head for the swim exit marked by flags.
Bike Course 
Standard Distance – 40km (8 laps)
Sprint Distance – 20km (4 laps)

After securing your cycle helmet in the transition area, (this must be done before un-racking your bike), proceed on foot to the mount point, where you must wait until it is clear to start the bike course.
You must ensure you mount and dismount correctly, (i.e. after the mount line and before the dismount line), failure to do so will result in a time penalty!
The 5km bike loop will be completed 4 times for sprint distance athletes and 8 times for standard distance athletes. It is your responsibility to count your own laps. We find the best way of doing this is with the aid of a bike computer or watch.
Run Course 
Standard Distance – 2 laps
Sprint Distance – 1 lap


Starting from the transition area, triathletes will run either 1 or two out and back loops, alongside the lake. The course is on pavements and is completely flat. There will be 1 drinks station on the course, manned by marshals serving water in plastic cups. This is the only drinks station and you will pass it on each lap.
After the Race No bikes can be removed from transition until the last cyclist has returned in your wave. Your number must be presented to remove your bike. There will be no exception to this!
Toilets
There will be toilets a short distance from the transition area.
Baggage
There will be an informal baggage drop area for you to leave any belongings within the transition area.
Spectators
You are free to wander around the lake so you can see where the competitors will be running. It is lapped so you will see them on numerous occasions.
Results
Event Chip Timing will record your times. Results will be live at www.eventchiptiming.co.uk throughout and after the race.
Prizes Presentation 
The presentation of prizes will take place throughout the morning and we'll make announcements prior to the presentation. There are lots of prizes on offer!
Pictures
We will have a photographer taking a few snaps of the race and they will be on our Facebook page after the race so be sure to check it out and see if you can spot yourself.
Travel/Getting There
Address: Dorney Lake, Off Court Lane, Windsor, Berks, SL4 6QF (Type Dorney Lake into maps/Sat Nav)
For information on Parking, see HERE
For details on how to get to the park from nearby public transport then have a look HERE
Nearest Train stations: Slough and Windsor & Eton Riverside
Things to note!
There are no refunds or transfers for this event. There is a strict no headphones policy during the race, if you are found wearing them you will be disqualified.
Social Media 
If you wanted to share your journey to the race or after the race with us on the Dorney Triathlon Facebook page, you can find us HERE.
If you wanted to share your journey to the race or after the race with us on Instagram we are on @RunThroughUK and don't forget to #RunThroughUK.
For updates leading up to the race and results, please check out our Twitter @UK_ATW