Sprint and Standard distance route maps
Swim Course
The course map below is for all 2021 events: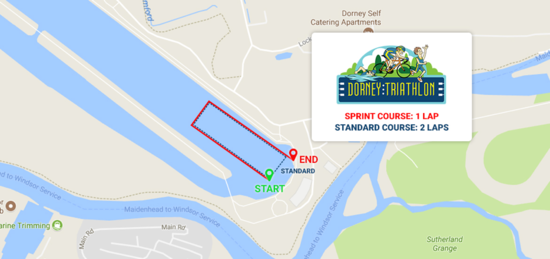 Sprint Distance – 750m, 1 lap
Standard Distance – 1500m, 2 laps
Swim hats are compulsory and will be provided.
You will be asked to enter the water and line up at or behind the start line. The swim will start in the water.
The temperature of the lake is taken on the morning of the event and if it is over 14c then wetsuits will be optional. If the temperature is over 22 degrees then wetsuits will not be allowed. Please don't email us if wetsuits will be allowed at the race, as we can't tell you this information until the temperature is taken on race day.
If you have any recent exposed cuts or feel unwell you are advised not to take part.
If you get into any sort of difficulty, roll onto your back and raise one arm directly upwards out of the water. This will prompt a lifeguard in a kayak to either rescue or attend to you out in the open water.
The route is clockwise. The course will be well marked with swim buoys after completing your lap, you will head for the swim exit marked by flags.
Bike Course
Standard Distance – 40km (8 laps)
Sprint Distance – 20km (4 laps)
After securing your cycle helmet in the transition area, (this must be done before un-racking your bike), proceed on foot to the mount point, where you must wait until it is clear to start the bike course.
You must ensure you mount and dismount correctly, (i.e. after the mount line and before the dismount line), failure to do so will result in a time penalty!
The 5km bike loop will be completed 4 times for sprint distance athletes and 8 times for standard distance athletes. It is your responsibility to count your own laps. We find the best way of doing this is with the aid of a bike computer or watch.
Run Course
Standard Distance – 2 laps
Sprint Distance – 1 lap
Starting from the transition area, triathletes will run either 1 or two out and back loops, alongside the lake. The run course uses a traffic-free, flat 5km lap.
After the Race No bikes can be removed from transition until the last cyclist has returned in your wave. Your number must be presented to remove your bike. There will be no exception to this!
Race Rules
Normal BTF (British Triathlon Federation) rules apply. All these rules are important but the most important of these is that all competitors must secure their cycle helmet (on their heads!) before removing their bike from the rack and must not undo or remove it before racking their bike at the end of the cycle section.
You must also fully comply with and follow all rules of the Highway Code. Our primary consideration is your safety, make it yours as well!